Trademark Registration is the Strongest Protection for Your Brand
Registering your brand as a trademark is crucial for building a strong brandawareness of your products or services. It is also a core element needed to protect your business from any potential infringements and is a powerful instrument to block the entire business of unfair competitors related to your brand.
It is not only a brand name or a logo or a combination of both that brand is made of. Slogans, product design, brand colours, and melodies – all add their own value to the brand recognition. Any of these variations can be registered as a special type trademark.
Needless to say that a registered trademark can be legally possessed, licensed, assigned, contributed in kind to the share capital, pledged as collateral in exchange for the monetary asset, used to attract investments and many more.
TRADEMARK PROTECTION: FEATURES
Trademark definition
Any signs represented graphically, words, personal names, designs, letters, numerals, shape of goods or packaging, provided they are capable of distinguishing the goods or services of one undertaking from those of other.
Registration type options
Registered with trademark/patent office, such as EUIPO – EU Intellectual Property Office (regional registration) or national trademark/patent office of selected country (national registration) and witnessed by trademark certificate
Territory of protection
Regional protection (EU registration) or
National protection in a selected country
Duration of trademark
10 years + indefinite renewals = unlimited
Renewability after validity
Yes, perpertual, every 10 years (if remains in continued use)
Maintenance duration
In few countries (annualized)
Maintenance renewability
In few countries (every year, official fees)
Registration speed
6-12 months (country-specific, given no objections or oppositions are filed)
Notice symbol
® ('registered trademark')
Eligible items


(objects eligible for trademark protection)

●
Wordmarks: brand name, domain name, slogan (words, letters, characters or numbers)
●
Figurative marks: logo without words, letters, characters or numbers
●
Combined marks: logo with words; word logo in graphical style (without images)
●
3D marks: 3D product or packaging model
●
Other marks: sound mark (melody, ringtone), colour per se mark (colour sign)
Our Offer
To protect your brand (as a word name or logo), slogan or branded melody in any country of Europe and the CIS or the European Union as a single zone, see our Trademark Protection package with full description of what you get for a single all-in price.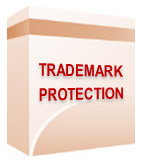 Trademark Protection Package
Standard all-in price includes:
●
Registration with regional or national trademark/patent office of selected country
●
Official fees for filing, examination, publication, registration, certificate issue
●
Power of Attorney, representation before registrar
●
Full availability search with analysis and recommendations¹

●
Application, filing, formal correspondence, notifications
●
Sending e-version of trademark certificate and official online reference to the client

●
Obtaining and checking paper certificate or its certified copy

●
FREE сourier delivery of certificate (original or certified copy)

●
FREE advice on trademark registration procedure
Jurisdictions
Number of
classes

¹



Word
mark

³



Figurative, combined, 3D mark

³



European Union (28 EU states)
1
€ 1890

€ 1990

Germany
3
€ 1450
€ 1590
France
3
€ 1250
€ 1350
Italy
1
€ 1350
€ 1390
Czech Republic
3
€ 990
€ 990
Russia
1
€ 1390
€ 1450
Kazakhstan
3
€ 990
€ 1090
Uzbekistan
1
€ 1690⁴

€ 1790⁴

Other countries
Request quote
¹

Includes identity and similarity search in up to 45 Nice classes and up to 4 words in one trademark (further details sent upon request). Additional classes start from €50/class. Please request quotes indicating classes or industries involved, countries and type of registration, etc.
²

In jurisdictions, where registration and certificates are officially made only electronically with no original paper certificates issued.
³

Legal defenses in case of oppositions or objections are not included.
⁴

Special offer to reduce cost in Uzbekistan up to 2/3 times available on request.
Please do let us know if you have any questions on trademark basics, trademark registration procedure, want to learn how to legalize your rights for your own brand, know the benefits of trademark registration and drawbacks of trademarks as a type of intellectual property. To contact us, use our contact form or write to trademark[at]ipagentpro.com.